Detailed description
Cyclone and filter double-stage recycling powder spraying equipment

Large cyclone: The particles are rubbed to the side by centrifugal force, the particles are discharged, and the smoke is discharged from the center of the tower.

Filter-type recycling: The powder-containing air in the powder room is attracted by the recovery fan, and passes through the filter separator in turn. More than 99.5% of the powder is separated in the filter element and dropped into the powder bucket, which is transported from Venturi to the automatic gun supply bucket. Repeat the cycle.
In order to ensure the filter passing ability of the filter element, the filter recovery device is of adjustable pulse type, and is provided with a compressed air blowing device, and the adjustable interval is cleaned from the inside and the outside of the filter element. Since the filter element is pulsed from the inside to the outside, the compressed air acts to expand and drop powder.
Continuously and effectively clean the filter element to ensure the recovery of the filter element.
Features: The big whirlwind is different from the small whirlwind, the big whirlwind is fast changing color, and it is most suitable for multi-product multi-color products. The small whirlwind is better for single-color products.
The use of large cyclone plus filter recovery is through large cyclone filtration and then into the filter recovery. After two levels of recovery, the air meets environmental requirements, and is not installed directly in the workshop without the duct. It is the most ideal powder recycling equipment.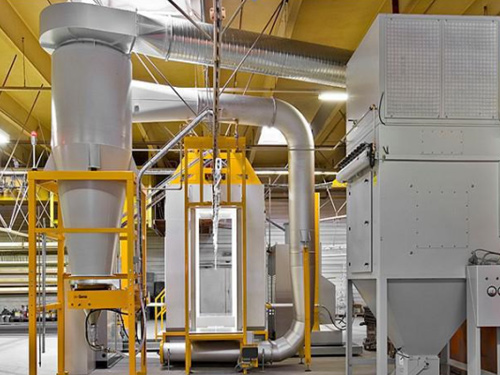 source:http://www.dglhjd.cn/supply/78.html time:2018/5/17 0:00:00