Detailed description
Small cyclone and filter double-stage recycling powder spraying equipment----Double stage recycling powder equipment for small cyclone and filter core

Small cyclone: The particles are rubbed to the side by centrifugal force, the particles are discharged, and the smoke is discharged from the center to the electrostatic precipitator to remove the fine particles.
The classifier is based on the principle that the solid particle size is different, the specific gravity is different, and the sedimentation velocity in the liquid is different. The fine ore particles float in the water to overflow and the coarse ore particles sink to the bottom of the groove. A grading device for mechanical grading by pushing the upper part of the screw, which can filter the powdered powder in the mill to filter, and then screw the coarse material into the grinding machine feed port by using a spiral rotary piece, and filter The fine material discharged from the overflow pipe
Filter-type recycling: The powder-containing air in the powder room is attracted by the recovery fan, and passes through the filter separator in turn. More than 99.5% of the powder is separated in the filter element and dropped into the powder bucket, which is transported from Venturi to the automatic gun supply bucket. Repeated cycle use. In order to ensure the filter passing ability of the filter element, the filter recovery device is adjustable pulse type, equipped with a compressed air blowing device, and the adjustable interval is cleaned from the inside and the outside of the filter element, because the filter element is pulsed from inside to outside, compressed air acts Expanded powder, continuously and effectively clean the filter, thus ensuring the recovery effect of the filter.


The use of small cyclone and filter element recovery is filtered by small cyclone and then into the filter core. After two levels of recovery, the air meets environmental protection requirements. It is the ideal dust recovery equipment without the air duct installed directly in the workshop.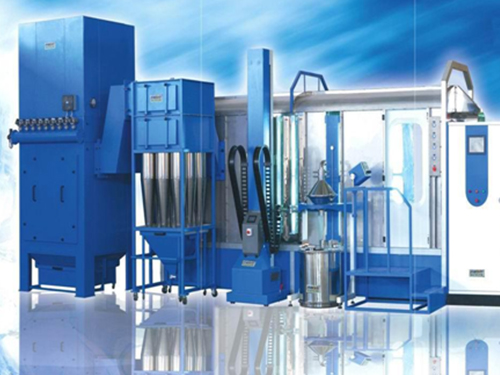 source:http://www.dglhjd.cn/supply/77.html time:2018/5/17 0:00:00