Detailed description
Hardware suspension conveyer

There are many types of metal hanging conveyors; different types of conveyor lines are designed according to different workpieces, and there are generally die-casting chain hoisting lines, and self-hoisting hoisting conveyor lines, which are designed for large and heavy single-point suspension conveyors. There are five tons of standard and heavy-duty hoisting conveyor lines, seven tons of heavy-duty hoisting conveyor lines, and steel rope hoisting conveyor lines;

There are 3 types of die chain series suspension chain, XT-80 type; XT-100 type; XT-160 type. It is suitable for single-point hoisting of 125KG, 250KG; various items within 500KG for long-distance airborne continuous transportation. Self-propelled hoists are used for large-scale overall transportation such as automobiles and excavators;

The following picture shows the five-ton standard hanging conveyor line; it is used for spraying various products of less than 50kg, such as chassis cabinet panel, hardware furniture, etc. for spraying or logistics transportation; the characteristics of the hanging line: flexible operation, power and power Small, reduce manual handling and save on operating costs.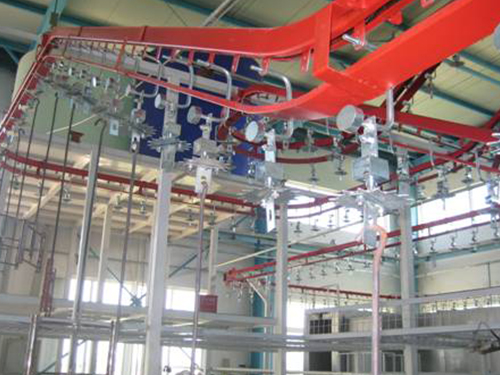 source:http://www.dglhjd.cn/supply/76.html time:2018/5/17 0:00:00